Mecha specializes in manufacturing mechanical components for the embedded computer industry. This includes front panels, board extractors (injectors/ejectors), card locks, wedge locks, heatsinks, and heatframes. Our staff is very familiar with associated form factors and specifications, including the following:

AdvancedTCA

CompactPCI (cPCI)

MicroTCA

Mini-ITX

PC/104

PICMG

PMC

PXI

VME

VPX

VXI

XMC
Mecha's talents are not limited to embedded computer parts. We have vast experience manufacturing products for the medical, automotive, biotech, and aerospace industries as well. After all, the process of cutting material is essentially the same no matter what the final application is for the end product. Machining custom parts is what we do, and we do it better than anybody….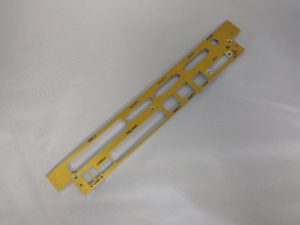 This is an example of a 6Ux8HP front panel with silk-screening and gold chromate (a.k.a., alodine, iridite) plating.